We have discovered that one of the best uses for Facebook for our business is to have the opportunity to be able to offer you chances to win contests that we periodically now and then. When we post "Win $1000 Toward Any Product!"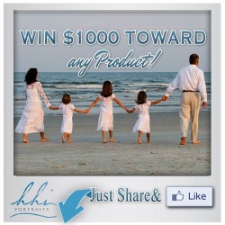 all you need to do is Like & Share and you'll be entered in the running to be a winner. Many people do, and some win! It really is just that simple!
But that's not all that's good about Facebook. There's a lot of information on our page about us as well as copies of photos that we've taken so you can see the quality that you can expect. Plus, it's a great place to get ideas for your own sitting or upcoming family portrait.
When it comes to happy clients ours are singing their praises for us right on our Facebook page. They really are so kind. Here's what some have had to say:
"We loved our portraits from David. While we were in Hilton Head on vacation, we took advantage of the scenery and his talents to have maternity photos on the beach. We were more than pleased with the results!" – R. Atwood
"We are repeat customers of HHI Portraits. David has done our family portraits on three occasions over the past several and knows how to capture both the beautiful scenery and the personalities of each person. Whether the portrait was of 1 person or a group (up to 14 for us), he captured exactly what we wanted. He has a knack for getting small children (even infants) all the way up to their grandparents to all cooperate for a great session and wonderful photos. Highly recommended!" – J.W. Neal
"I can not express how thrilled we are with our photos. We have gotten photos in Hilton Head in the past and felt rushed. Dave took the time needed with our family and was able to capture our family's personalities. The collection we chose looks incredible and we will cherish it forever!" – A.M. King
When you're looking for an experienced and knowledgeable Hilton Head photographer, give HHI Portraits a call at 843-474-1441. If it's easier for you, you just fill out the Contact form on our site. We look forward to hearing from you!