If you've finally made the decision that this year will be the year you get a family portrait taken by a professional photographer, why not consider having it done on the beaches of Hilton Head Island. The experience of Hilton Head Portraits is something you can depend on for excellent judgement
and an eye for detail. But there are some things you should know in order to prepare for your oceanfront family portraits. Following are some suggestions to follow.
1. Use a professional photographer with thorough knowledge and provable skills in the type of setting you want for your portrait.
2. Trust the photographer you've chosen and take whatever advice they give you to heart. They know best what conditions will be present during any specific time of the day and when they make a suggestion it's based on the foundation of their past experience.
3. Don't make any drastic changes to yourself within weeks of the photo shoot. This means no new hairstyles, haircuts, new-to-you wardrobes, or brand new looks, etc.
4. It is hot and humid most of the time at the beach so avoid wearing a lot of make-up because it will just run off. Less is more.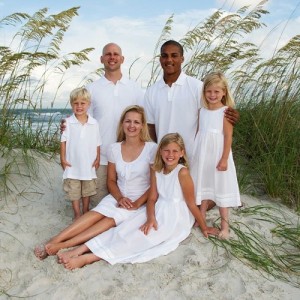 5. Dress the family in the same color theme. Light colors are best. Avoid patterns of any sort.
6. Leave your sunglasses, telephones, and iPads at home. Keep jewelry to a bare minimum.
7. Men and women both should be careful shaving to avoid nicks. Use a new razor blade and a moisturizer afterwards.
8. Do not try to get a great tan right before a photo shoot. Too many people have wound up with a bad sunburn instead.
9. If the family is wearing shoes or sandals, take the time to clean and polish them.
10. Don't wear wrinkled clothing. Iron what you're wearing for the photo shoot a couple days ahead of time and hang them up.
When you're ready to speak with us about having an oceanfront family portrait taken on the Hilton Head beaches, give us a call at 843-474-1441. We'd be happy to answer any questions you may have and to schedule a time to photograph your family.